Greek Food Festival
This was their favorite so far. We went Friday night. I bought a coupon book online before getting there so we saved a few bucks just getting in. It included one ticket, a drink and this combo plate. The kids got in free. That plate was enough for all of us.
We had Lamb (something I never ate as a kid, but they all tried it),
Dolmathes - Beef, rice and spices mixed and rolled in tender grape leaves and baked in lemon sauce.
Pastitsio - Layers of ground beef and macaroni topped with cream sauce and baked.
Greek Salad
Rice Pilaf
and they gave us 2 rolls to split between us.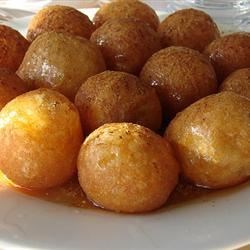 They loved the Loukoumathes (or Loukoumades) which are basically like light doughnut holes drenched in honey and sprinkled with cinnamon or powdered sugar. They liked it so much I looked up
the recipe
and it is super easy so maybe I'll make it for breakfast or special occasions.
The dancers were scheduled for earlier, but ended up postponing the start of their dance until the sun went down. So we had some time to sit and enjoy all of these pastries. There was a lot of honey, cinnamon and walnuts. There were two types of cakes; a spice cake and a chocolate cake. A lot of the dough was crispy, then soaked in honey. We were a sticky mess while we ate.
These are Diples; which are giant rolls of crispy pastries that had honey, cinnamon and walnuts.
Finally the dancers came on. There were 3 age groups. This was the middle age group.
These were high school/college age kids. Those kids had a lot more dance moves and we really enjoyed watching them. The kids tried to duplicate their moves when we got home.
After the dancers, they lit the giant torch. The weather was perfect, they loved all of the food and overall they really had a good time.
ABOUT THE AUTHOR
I have been homeschooling since 2009, but have been reading about it since 2003. Homeschooling is rapidly growing. Whether you are a veteran or new to homeschooling, I hope to filter some of the vast amounts of information for you